CPQ, project management and more with calcIT
YOUR TOOLBOX FOR THE DIGITAL ILLUSTRATION OF BUSINESS PROCESSES
REQUEST DEMO
SEND ENQUIRY
Consistent digital business processes: from request to project completion 
Operating in a rapidly changing environment, companies are faced with increasingly difficult market conditions. More frequently, complex custom requests in the B2B area have to be calculated using batch size one, while configured products are enhanced with custom components. With calcIT you can meet diverse customer demands and completely automate your calculation and offer process. Even after the signing of a contract, you stay in control with calcIT's project management tools. calcIT can be adjusted 100% according to your needs and digitally illustrates your business processes – leading to improved transparency and efficiency.
CALCULATE & CREATE OFFERS FLEXIBLY
calcIT is a flexible software with extensive CPQ functions that allow you to illustrate your requirements for calculation, offer preparation and configuration with full release capacity. From calculating the cost of a single screw to the comprehensive calculation of complex offers: calcIT 100% conforms to your needs.
CALCULATE & CONFIGURE
calcIT provides you with flexible opportunities for the effective calculation and configuration of projects.
Automated Offer Creation
Create automated offers and editable documents in your CI with only one click.
Various Interfaces
Interfaces enable full integration into your existing software architecture.
Reporting & Controlling
Calculated values can be clearly illustrated and condensed on project or version level.
Intercompany
Access to functions is defined through rights – all of the software's functions can be accessed independently.
Low-Code Customizing
Through intuitive tools and a maximum of transparency, you can easily administer and adjust calcIT yourself.
From offer calculation to complete project management
CPQ & project management: for digital and transparent business processes
To gain customers, flexibility, speed and attractive prices play a key role. Profiting from a CPQ software can help you meet these criteria and dominate competition. But what happens after you win a project? With calcIT you can process new assignments either without a foreign interface in SAP (ERP or S/4HANA) or directly in calcIT. This allows you to create a fully digital, transparent business process.
Customisable. Transparent. Intuitive.
A central project management task is to divide large, complex tasks into smaller pieces. calcIT allows you to freely determine the division and distribution of tasks – project specific and transparent.
Concurrent Calculation
In the concurrent calculation, you can directly view all adjustments and compare estimated and actual costs.
Change Request Management
Factor change requests directly into your (concurrent) calculation and issue CR offers.
Task Management
Divide tasks as needed whilst gaining an overview of all tasks, completion levels & statuses.
Meeting reports
Manage all meeting protocols neatly and centrally – putting an end to long searches.
CAPACITY AND RESOURCE PLANNING
Required resources and hours are distributed over a set period and scheduled in SAP.
Low-Code customizing
We developed calcIT in a way that allows you to carry out customisations yourself.
Reliable. Efficient. Flexible.
It was our goal to develop an industry-independent standard solution that is 100% customisable. With calcIT we can offer our customers a flexible solution with which they can digitally illustrate their business processes whilst always staying on top of things – including highly complex calculations.
Industry-independent and customisable
calcIT was developed as an industry-independent low-code platform and is simply and intuitively customisable at anytime and with no need for programming skills. calcIT can illustrate all of your specific and complex requirements.
Wide-ranging functions
Whether you are working on a project from several different locations or require access to a calculation without internet connection: thanks to wide-ranging CPQ and project management functions you are always in control of your processes.
SAP and CPQ: a process-integrated system
Via process integration, calcIT can be perfectly incorporated into your existing SAP system. Therefore, calcIT is also a central element of our SAP-certified industry solution for SAP S/4HANA implementation.
Risk-free phase-based implementation
The implementation of calcIT occurs in phases and aligns with your custom requirements. Throughout this process, every phase builds onto the results of the previous one. The best thing about this: already after phase 1 you possess a fully functioning base configuration.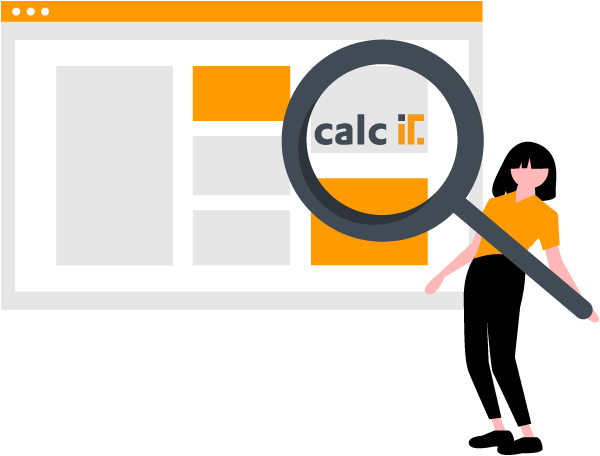 READY-MADE
INDUSTRY SOLUTIONS
Tested. Preconfigured. Customisable.
Access preconfigured and tested industry solutions that can be flexibly customised according to your needs. With our calcIT industry solutions, we are offering you packages of industry-tailored best-practice approaches and methods, on the basis of which some system elements have already been preconfigured in the software.
Up to date. Informative. Practical.
Satisfied customers are the best reference