Execution of a calcIT implementation project
The calcIT implementation project generally proceeds in several phases, which may differ depending on software requirements. The result of each phase is a fully functioning version of calcIT, which is examined with your requirements in mind through a fit-gap analysis. Each subsequent phase is based on the results of the previous phase (i.e. the fit-gap analysis).
Generally, we proceed with a calcIT implementation project according to the following phase model:
Generation of a base configuration
After we kick-off, we define together with you the minimal requirements for a base system tailored to your company on the basis of a matching industry template. The base configuration's architecture consists of component types, hierarchy and calculation rules, as well as simple version templates and libraries.
Result: fully functioning calcIT base configuration
Refinement of calculation structures
Based on the calcIT base configuration, we refine and expand calculation structures on all levels. Hierarchies, input screens and column views are optimised and specific calculation rules inserted. In addition, we model relevant special cases or alternative calculation variants.
Result: calcIT version with sophisticated calculation structures
Library construction & data migration
To fill your calculations with the right data and structures, we configure libraries and master data with you. For the import of data, i.e. the migration of data from other systems, we create import settings for Excel files and/or simple data interfaces.
Result: calcIT version for the calculation of real projects with real data
Creation of output templates
According to your functional requirements and layout requests, we create diverse templates for Word outputs (for example for quotes) and Excel outputs (for instance for cost reports). Beyond text, this can also involve graphic elements such as product images or diagrams
Result: calcIT version with templates for offers and reports
Configuration of advanced functions
Working closely with you, we create concepts for advanced functions and calculation-foreign data structures like orders, stocklists, and CRM functions. To do this, we configure new data entities and node types with their own hierarchies, screens, and calculation rules, and design transfer templates for data transfers.
Result: complex calcIT version for diverse use
Setting-up of interfaces
Jointly with the respective technical division, we design solutions for the integration of calcIT into the third-party software you are using. calcIT can generally be integrated into any foreign system. If SAP is being used, we can fall back on an extensive toolbox and the experience of our SAP division.
Result: calcIT version with interfaces with foreign software
Integration tests and going live
Before the calcIT system can go live, we test both internally and jointly with you all elements of the calcIT system. If applicable, we also test all interface processes. We carry out final adjustments and accompany you throughout the training of users.
Result: final calcIT version ready for productive use
You would like to learn more about the implementation of calcIT?
Download our free guide now!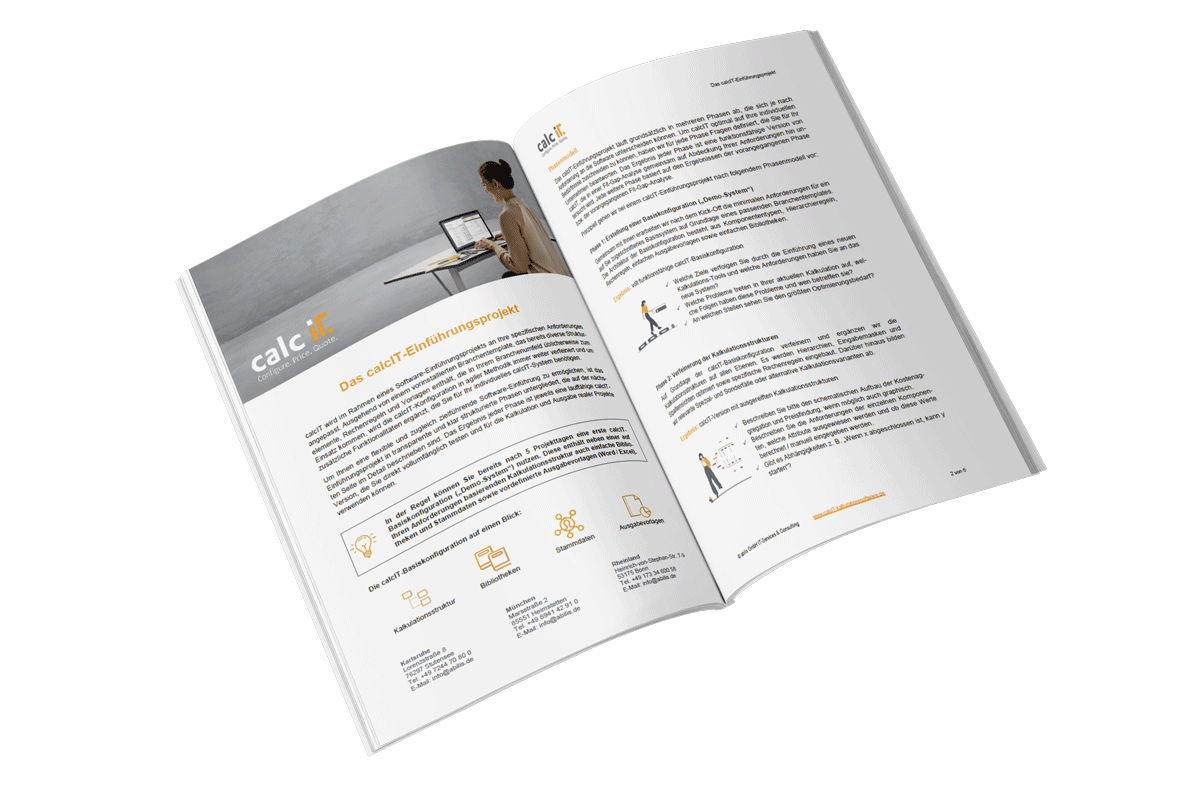 Satisfied customers are the best reference